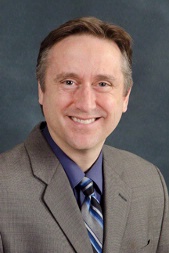 This month's member spotlight features Dr. Brett Robbins.  Brett has been Program Director of the Med-Peds Residency at the University of Rochester since 1999.  Brett is an Associate Professor of Internal Medicine and Pediatrics and has been Chief of the Division of Adolescent Medicine, since 2009.
"In my 15 years as program director with a wonderful leadership team, strong university backing and over 100 successful MP graduates, we have continued to innovate in residency education.  We have built mentored advocacy, research, global health, and medical educator tracks within the program, while keeping pace with the evolving ACGME residency requirements and milestones.  While continuing my career as an EBM educator, adding chief of adolescent medicine to my duties has allowed me to advance the training and logistics of transition of adolescents and young adults with chronic illnesses to adult health care by anchoring this activity in a clinical division.  This includes a transition track within the adolescent medicine fellowship and a training grant to fund computer-based CME modules on transition topics.  With the nidus of the talented  MedPeds faculty, the University of Rochester is backing the creation of a center for transition that will serve as a medical home for about 1500 high-needs patients, and serve the region through database management, care coordination, workforce development and community outreach.  I have been working with both pediatric and IM subspecialty divisions to advance the many moving parts of transition utilizing mentoring and resources from gottransition.org.  The highlight of my week continues to be teaching, learning and laughing with the MP residents.  I continue to be humbled and inspired by their keen talents, large hearts, boundless energy, and wonderful senses of humor.  I can easily see another 15 years in this role ahead of me employing my favorite metaphor for the work we all do as program directors: pushing sand into a pile.
My amazing wife Amy keeps me oriented and inspired to make the world a better place.  My three wonderful teenage children, Luke, Eleanor, and Lydia challenge me in a number of ways, but also remind me of how my brain can be stuck in the 80's along with my favorite music.  Our recent beach wedding on Martha's Vinyard (with just the 5 of us) was a dream come true.  In my spare time I enjoy single malt scotch and as much live music as I can fit in.  Since 1998, I have been the team physician for our local AAA affiliate of the Minnesota Twins- the Rochester Red Wings, and still love going to view our great American pastime with great friends and a local brew."
In addition, Brett was co-author of a paper that was cited by the US Supreme Court in ruling on the constitutionality of the Affordable Care Act.  The paper highlighted that a substantial portion of primary care for adolescents was done in emergency department settings.  Click here for the full PDF:  Fortuna RJ, Robbins BW, Mani N, Halterman JS. Dependence on Emergency Care among Young Adults in the United States. J Gen Intern Med. 2010; 25(7): 663-9.
In this section, we would like to spotlight individual MPPDA members who are doing amazing and innovative things in education, clinical programs, or community service with their Med-Peds programs.  If you would like to nominate an individual MPPDA member, please leave us a comment below or email us at info@mppda.org.