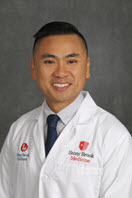 This month's Member Spotlight features Jonathan Tolentino.  Jonathan is the Med-Peds Program Director at Stony Brook University.  He is currently Associate Professor of Internal Medicine and Pediatrics.
"Since I started here in July, I've been very impressed with the Med-Peds residency. We have a great group of residents and faculty, and we're looking towards growth in our program. We've revamped our Thursday Med-Peds forum to include a strong board review program and EBM curriculum. I've been impressed by the quality improvement projects that the Med-Peds residents have spearheaded for our adult diabetic patients, creating a new education group visit initiative that we are starting here in the fall! Over the next several years, we are planning on expanding Med-Peds at Stony Brook, including bringing more faculty and expanding the transitional care services at Stony Brook.
I'm avid runner, and I enjoy completing half marathons whenever I can. I'm also a big tennis fan and love playing on the courts whenever I can. I'm always game for a good meal – especially if anyone's itching for a dinner at the Golden Corral. I like to tear it up on the dance floor, and I'm always in for karaoke of any sort. It has been great moving up to New York, as most of my extended family lives in Long Island and the greater New York area. Fun fact – I have 8 other aunts and uncles from my dad's side, whose first names, including my father's, creates an anagram of my last name (Tolentino), done in sequential order from eldest to youngest."
In this section, we would like to spotlight individual MPPDA members who are doing amazing and innovative things in education, clinical programs, or community service with their Med-Peds programs.  If you would like to nominate an individual MPPDA member, please leave us a comment below or email us at info@mppda.org.