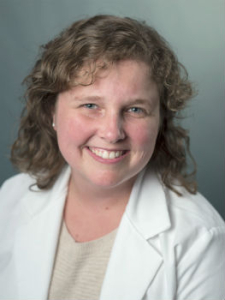 This month's Member Spotlight features Dr. Katie Diamond-Falk. Katie is one of our newest Med-Peds program directors in MPPDA. She has been first the interim and now permanent program director for one year at Maine Medical Center after transitioning from associate program director for a year. She is an Assistant Professor Medicine and Pediatrics for Tufts University and spends her non-program director time as a hospitalist in Medicine and Pediatrics.
"Although I do not know the last time my life was "quiet" the past year of transition has been both busy and exciting. Having the opportunity to lead the Med-Peds Residency at MMC after having been a resident here myself is not something I imagined back in medical school. But, quite honestly, with Kelly Barnes as the program coordinator, she would keep anyone in line. We have an amazing hospital and staff who have supported me and our residents. We are all just happy Mainers who love living here and feel grateful to work somewhere we love.
I am starting my second year as a META (Maine Medical Center Teaching Academy) scholar which provides an environment for both learning and sharing best practices in medical education. It is pushing me to keep revising and collecting data on our Med-Peds directed reading plan which I am preparing as my scholarly project for the group. It also provides a group of like-minded teachers from multiple specialties and varying degrees of experience who are excited about honing our skills as educators.
The thing I am most proud of as a new PD is that I revised our QI curriculum and it seems to be working to engage the residents at a level I was hoping for. Now when I check my email, the residents are messaging back and forth about meetings they are going to and articles they have reviewed for our group QI project. Look for a poster this spring at our meeting if the momentum continues!
The thing that I think of first each morning before medicine is my family (in part because I sadly often have a 3 year old trying to sneak in and share my pillow). My husband, Brian, and I have two amazing children. Our daughter is in Spanish immersion kindergarten, a ballet dancer, tap dancer, avid reader, gymnast, soccer player and hopes to be a singer in Disney, then a ballet teacher then a doctor like mom. Our son is a wild 3 year old who takes after his sister and is learning ballet and gymnastics and keeps us all laughing with his antics as only a toddler can. He wants to be a garbage truck driver or monster firetruck driver when he grows up. Between a physician mom and chef dad we could not be prouder of our family."
In this section, we would like to spotlight individual MPPDA members who are doing amazing and innovative things in education, clinical programs, or community service with their Med-Peds programs.  If you would like to nominate an individual MPPDA member, please leave us a comment below or email us at info@mppda.org