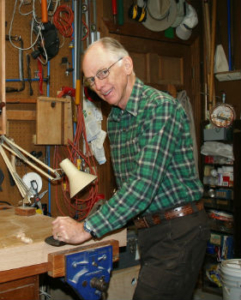 In order to commemorate the 50th Anniversary of the specialty of Med-Peds, the MPPDA would like to spotlight individuals throughout the year who have played a part in the development of the MPPDA and have contributed to the rich history of Med-Peds in the past 50 years.  This month's "Legends of Med-Peds" features Dr. Dale Newton.
Dale A. Newton, MD, FAAP
Current Position:  Professor Emeritus (Retired June 30, 2016)
Former Positions: Professor of Pediatrics; Clinical Professor of Medicine; Senior Vice Chair Pediatrics; Head, Division of General Pediatrics; Associate Med-Peds Program Director; Medical Director, Department of Physician Assistant Studies.  Director, Combined Internal Medicine-Pediatrics Residency Program, 1992-2003
Institution: Brody School of Medicine, East Carolina University, Greenville, NC
What have you done in your career with Med-Peds?  My goal during residency was to be a very well-trained primary care physician. A couple of faculty mentors advised me that combined training was the way to go, but there really weren't any visible role models.  I wasn't even aware of how few physicians had completed combined training.  After residency, I joined two other Med-Peds trained physicians (the first Med-Peds group) in a small town multi-specialty clinic.  Only in recent years did I learn that our group represented 3 of the first 5 Med-Peds physicians ever trained.
For the next fourteen years I continued to practice in that community.  The work there was incredibly gratifying and incredibly hard.  We managed patients on vents in the unit, took care of unstable newborns, and managed every imaginable problem in the outpatient and inpatient settings.  The skills and knowledge I'd acquired in combined training was priceless in allowing me to provide that level of care.
Then it was time for my mid-life crisis.  My wife objected to several options (e.g., blonde, convertible red sports car, etc.) so I changed career directions.  I joined the medical school faculty at East Carolina University with a primary appointment in pediatrics and secondary position in medicine.  In retrospect, that real life primary care experience was the perfect preparation for an academic career.  It was so rewarding to be able to teach students and residents how to relate to patients and their families, gather information efficiently and effectively, and implement management plans.
As the only Med-Peds faculty member, I immediately was given the role as program director for the Med-Peds program.  Over the following years the residency program size grew and additional Med-Peds faculty were hired.  We established a free-standing Med-Peds practice that continues to function as our resident continuity clinic.  As the head of the Division of General Pediatrics, I was able to slowly grow it from 5 full time faculty to 26 faculty.  I found it rewarding to feel that I was a part of the development of something important for medical education and patient care.  At the same time, it was very rewarding to have the opportunities to teach, provide patient care and write for publication.  The former role resulted in being selected by the SOM as a Master Educator, and the latter included research publications (mostly about medical student career choice) and co-editing four textbooks including the first ever textbook of Pediatric Hospital Medicine.
What has the MPPDA meant to you?  During those years in practice, I remember lamenting the lack of any organization of like-minded and trained physicians.  During my second year in academics, I attended the MPPDA national meeting not realizing that it was only their second annual meeting.  Immediately I felt that I'd found a home.  This was the first time that I had the opportunity to work with Med-Peds trained physicians from other places!  The following year with Drs. Carole Lannon (UNC) and Mary Ciccarelli (IU), we presented a workshop for the Internal Medicine program directors: "Is Medicine/Pediatrics the Answer for the Development of a Generalist?"  Even in the early 1990's, many categorical PDs still didn't know much about combined training or how it could be used in the real world.  From 1997-2000 I was honored to serve as Secretary-Treasurer of MPPDA.  MPPDA gave me the wonderful opportunity to represent Med-Peds on the AAP Committee on Education (2000-2002).
MPPDA also had a voice beyond just the obvious role in resident education.  MPPDA became an important advocate for Med-Peds on the national level resulting in some positive and very much needed legislative changes.  The organization has also been remarkably effective in publicizing Med-Peds and recruiting medical students to it as a career path.
How has Med-Peds changed over your career? When I started training in Med-Peds, if you weren't at UNC or Rochester, you probably wouldn't even know it was a training option.  There just weren't any role models in academics or practice.  In those early years, most medical students choosing Med-Peds were "buying time" to avoid a career choice, and most then would move into categorical IM or Peds.  It is remarkable how that has changed.  Now we find Med-Peds trained physicians doing primary care, hospitalist work, or subspecialty training.  Rarely now do I find myself having to explain our double training.  Med-Peds has also developed niche opportunities like transitional care, children with complex conditions, and hospital medicine and pediatrics.  I remain in awe to think that over the span of my career, the number of Med-Peds trained physicians has increased from just that initial "handful" to now more than 9,000!
What do you see for the future of Med-Peds?  I truly think that our future remains just that incredible panoply of career options that enrichens the care of patients and the training of physicians.  I only wish that more physicians were choosing Med-Peds as a route to being the consummate primary care provider.  I still feel strongly that the depth and breadth of our training is the perfect preparation to provide high quality care in that setting!
What do you enjoy doing in your free time?  Now I'm at a different stage of life.  For the past few months I've been fully retired.  Unfortunately, an inherited problem with hearing loss contributed to that decision.  But I'm truly enjoying more time with my wife and soul-mate of 49 years, our 3 sons, and now our 8 grandchildren.  Now there is more time for all those things for which we didn't have time in years past: more travel, reading, woodworking, gardening, volunteer work, and screaming at the TV news.  And finally a few words of unsolicited advice.  Think about your retirement and plan what you want to do.  It is a mistake to simply retire "from," you need something to retire "to."  I know some unhappy retirees, but I am the happy one!!