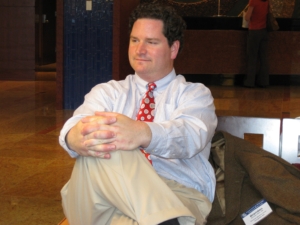 Dr. Brendan Kelly served as the Associate Program Director of the Med-Peds Residency Program at Baystate Medical Center/Baystate Children's Hospital since 1999. Brendan was an Assistant Professor of Pediatrics and Medicine at the Tufts University School of Medicine and an Adjunct Assistant Professor of Pediatrics at the University of Massachusetts School of Medicine.
His teaching career began as a professional sailing instructor.  He was a second generation Irish American who visited the "Old Country" often and always had interesting stories to tell about his ancestors and his homeland. His enthusiasm was limitless, and he always had knowledge to impart, whether he was talking about unusual rashes or brands of whiskey.
Brendan's accomplishments as an Associate Program Director for the Baystate Med-Peds program were many.  At the time of his passing, he was putting the finishing touches on an Alpha Omega Alpha – sponsored qualitative research project assessing Med-Peds Resident's attitudes and experiences of professionalism.  He also taught a unique inter-disciplinary physical diagnosis class. Learners in this class included medical students, nursing students, PA students, NP students, and midwives. Brendan was also in his fourth year of teaching Introduction to Clinical Reasoning in Boston to 2nd year Tufts Students.
Brendan was the course director for the annual 3-day Practical Med-Peds Symposium– now in its 10th year– that united many Med-Peds program directors and faculty from all over the northeastern United States.
For all of those who were fortunate enough to know and work with Brendan, they will tell you first and foremost that Brendan always made them smile.  He was kind-hearted, witty, and very dedicated to his friends, colleagues, and learners.  His presence was truly larger than life.  He was a big man, with an even bigger heart.  He was a passionate teacher, a life-long learner and a dedicated mentor.  He will be dearly missed by everyone.  Brendan leaves behind a wife and four children ages 15, 13, 11, and 4.
The Brendan Kelly, MD, Award
About the Award:
Dr. Brendan Kelly served as the Associate Program Director of the Baystate Medicine-Pediatrics Program for 18 years. Throughout his medical career, Brendan was a skilled and passionate teacher of residents and medical students, earning a total of 19 medical student teaching awards. He was the founder and director of the first and only national conference for Med-Peds physicians. As a medical educator, Dr. Kelly was known as an incredibly engaging and effective teacher, a master of the art of physical diagnosis, and an expert in giving feedback and teaching professionalism. He was a tireless advocate for all those he cared about: his family, patients, students, colleagues, and nursing staff. At the national level, he was a highly regarded leader and a much beloved friend to all in the medicine-pediatrics community.
Nominating Criteria:
Nominate your colleague here online.  
The Brendan Kelly Award is to be awarded annually by the MPPDA to an Associate Program Director of a Medicine-Pediatrics Residency Program who demonstrates the teaching excellence, collaborative leadership, and compassionate patient care that Dr. Kelly modeled so well.
Members may nominate an Associate Program Director who will receive the award at the annual MPPDA meeting.
Previous Award Recipients:
2017 (inaugural): Jennifer O'Toole, MD, MEd
2018: Namita Sachdev, MD