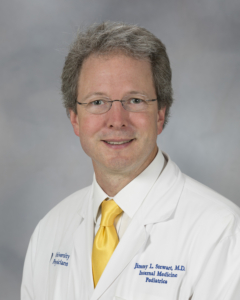 This month's Member Spotlight features Dr. Jimmy Stewart.  Dr. Stewart has been Program Director at the Univeristy of Mississippi Medical Center since 2004  and is a Professor of Internal Medicine and Pediatrics at UMMC.
"My early academic years were heavily influenced by a collaborative care approach utilizing pharmacy residents and students under the supervision of a PharmD in our clinic. We have developed a similar model in our Combined Med/Peds clinic which utilizes a pharmacy resident in a 5 month long longitudinal experience. Our pharmacy resident is physically in the clinic 1/2 day per week, and available by text and email at other times. They are utilized as resources for patient education and follow up, ongoing medication monitoring, and medication choice and usage, as well as QI information. Both Med/Peds and pharmacy residents are given opportunities to see how integrated multidisciplinary care might look in an outpatient clinic. We hope to incorporate telemedicine as part of the experience in the near future.
Peter Drucker is credited with saying "culture trumps strategy." Last year we defined who we are and what we do in terms of our unique Med/Peds culture at UMMC. We solicited comments from residents, faculty, nursing and administrative staff, patients, and families and are communicating this to our applicants, students, and across our campus. We hope this clearly describes why we do what we do on a daily basis, and frames who we are as a Med/Peds community.
Finally, our APD, Dr. Zeb Henson, has created a new format for our Med/Peds monthly conference in a team-based learning format, with a healthy competition amongst the teams over the year.
My 2 boys (Connor age 15 and Braden age 12) and my wife of 20 years Mary Ellen frequently conquer the road chasing the latest sports activities or cross country adventures (several years ago we covered 13 states in 3 weeks). I enjoy a rigorous hike followed by a cool stream and a fly line drawn taut by a stealthy trout. Long conversations with friends and family discussing a breadth of topics from local news to global warming to all things Star Trek invigorate me."
In this section, we would like to spotlight individual MPPDA members who are doing amazing and innovative things in education, clinical programs, or community service with their Med-Peds programs. If you would like to nominate an individual MPPDA member, please leave us a comment below or email us at [email protected]. To see previous Member Spotlight profiles, please visit the MPPDA.org Archives.